Universal Hollywood Youth Group Tickets
Call Today 1-407-334-4652
Universal Studios Youth Group Tickets
If you are looking for a fun and exciting way to celebrate your class or school year, check out the deals that we have right here for Universal Hollywood Youth Group ticket discounts. This will be one party that you and your youth group will not foret!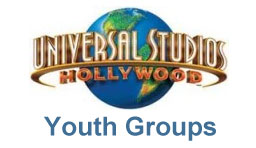 Universal Studios Hollywood will take you on a ride like you have never been on before. This is the place where you will get to ride the most amazing and exciting rides and attractions, as well as have a little look behind the scenes to see how your favorite movies and television shows are made. Being in Hollywood puts you smack-dab in the middle of the place where all of the stars and film-makers want to be, so you know that you are going to experience something special here at Universal Studios Hollywood. Not only will you get to enjoy all of the fantastic attractions and rides that are inside the park, but you and your group will get to experience a unique look behind the camera to get a real feel about how movies are made. Universal Studios Hollywood's Education and Youth Programs provide a perfect platform for your youth group to have a fabulous time.

Universal Hollywood Youth Group Ticket Info
- Ticket Admission:When you have 10 paid students, you get 1 chaperone for free and that includes an all-access run of the park. If you are in the Southern California area, be sure to check for some special rates just for you and your group.
- Park Availibilty:You can book your youth group vacation 7 days a week and 365 days a year.
- Group Tickets: When you purchase your tickets, they will be delivered to your school via the postal service. It is recommended to purchase your tickets in advance.
- Excepted Grades:All grades Kindergarten throught 12th are eligible.
- Minimum Students: You must have a minimum of 10 paid students and 1 chaperone.
- Maximum Students:As many as your group needs. There are no maximum restrictions.
- Group Restrictions:The only thing that you cannot do is use an annual pass.


*Theme park tickets are non-refundable.