Universal Stars Performance Program
Universal STARS Program Requirements:
Minimum group of 40 people required for performance.
All group members must purchase 2 day Park to Park access tickets.
Group Photo.
DVD or Tape of prior group performance.
The incredible Universal Studios has been bringing an amazing amount of entertainment and fun to the Central Florida area since 1912, and now they are offering you a once in a lifetime opportunity to join in the show! Universal Studios has launched two incredible programs that offer those with musical abilities to perform live in front of guests at the Universal Studios Theme Park! Using select occasions and day to day entertainment this program incorporates a wide variety of classic Universal with your talents! You can work your way around the theme park in your marching band or sing from the Citywalk Plaza stage just outside the theme parks, this great opportunity can only be found with the Universal Stars Performance Program.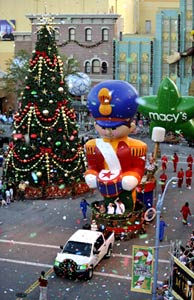 The two programs offered will take professional and novice artists, allowing them to showcase their musical talents in front of a large audience. When you are looking to choose between the two separate programs it's important to take into account that while they both offer different artists different opportunities they both continue to press Universals main point, to display your voice or instrument to the world. Offering young and old to play in the live marching band or onstage the Universal Stars Program can be broken down to even better benefits. Before and after the show you will have the freedom to explore the park, ride the rides and enjoy the entertainment Universal is so known for. This is just another reason to get your marching band on the streets or your voice on the stage!
Every year Universal hosts a mind blowing party to celebrate Mardi Gras. Every year the theme park boasts that it has broken new records and explored new ventures, so who wouldn't want to be at this awesome party? Well now you have the chance to participate in the Universal Studio's Mardi Gras Parade! Make this years parade a memorable experience by showering the audience with your incredible musical talents! Explore the world of music filled with parade floats and a huge array of lights, something that will wow the audience for years to come. When your done, you can get up on stage during the concert and show the Mardi Gras party just how good your voice and instrumental talents are!
Universal Studios also has the chance to offer you an incredible experience, to participate in the Macy's day parade. This year's parade is going to take to the streets of the popular Universal Studios, and your marching band is only a phone call away from being right in the midst of it. Dazzle the crowd with your talents and wow the audience with your music, this is one experience that you shouldn't miss! This event offers existing marching bands of larger than forty to participate, so get your school band in the fray in this fun and exiting celebration!
---