LEGOLAND® Elementary Students Youth Group Tickets
Call Today 1-407-334-4652
LEGOLAND® Elementary Students K-6
LEGOLAND® is one of the best places to go when you are looking to have a one of a kind experience for your elementary school trip or a field trip. There are so many things for you and your students to do and see at LEGOLAND®, it will be a trip that you will not forget.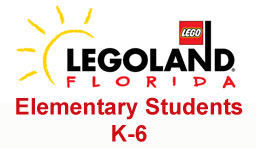 LEGOLAND® is a unique theme park that will provide you and your students a day packed full of learning, fun and excitement. There are so many interactive activities for your students to do and many rides that will offer a great experience. LEGOLAND® Student Educational Programs offers a list of educational programs to choose from. Depending on your class grade, you can check out such programs as Amazing Machines, where your students will be able to check ou mechanical devices such as pulleys and gears. There is an Energy Lab that will provide your student with instructions on how to build a LEGO® car made to run from solar power. Your students will also learn the difference between solar power and power that is generated mechanically. The Dr. Heartbeat program, your students will be provided with a hands on experience and perform operations and procedure of a medical nature. Adveture Bot will have your students hiding treasure from the rest of the group, as well as finding treasure that other students hide. All of the programs use tools and equipment that are all made from LEGO® Educational Sets.

You can book your elementary school group tickets from September 2012 - May 2013 (Monday - Friday only).

- Choose from the educational programs that are available for your specific group grade, or you can choose to explore the park on your own.

- There is a minimum of 15 students per elementary group. You will get 1 chaperone free for every 5 paid students.

- When you book your trip, the deposit will be due then.

- You and your students will have full access to the park, as well as the LEGOLAND® Water Park


*Theme park tickets are non-refundable.